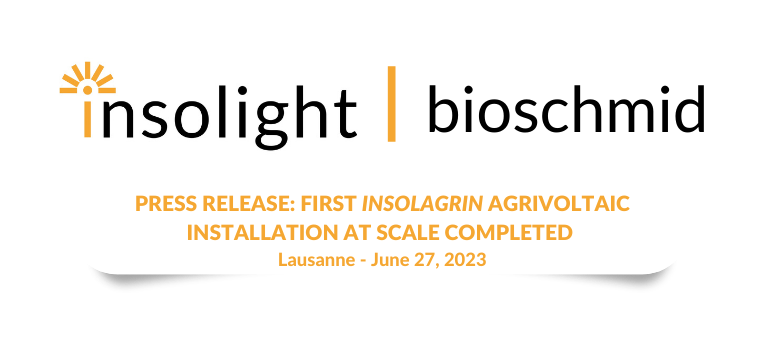 WE ARE DELIGHTED TO ANNOUNCE THAT OUR 2600𝗺² AGRIVOLTAIC INSTALLATION AT bioschmid gmbh IS FULLY OPERATIONAL
Our dynamic agrivoltaic solution insolagrin has been deployed at bioschmid GmbH in the canton Luzern. A joint installation with Monika and Heinz Schmid, who run organic farming operations, it is part of a project in which three different Agrivoltaic systems are being tested in comparison with a control area. After the construction phase in 2023, the Swiss Federal Research Station Agroscope Conthey (agronomic part) and the Bern University of Applied Sciences (PV part) will conduct research and accompany the project for three years. The pilot plant, which was launched by bioschmid gmbh, is supported by the pilot and demonstration programme of the Swiss Federal Office of Energy, the Canton of Lucerne (Swisslos), the Fondation sur la Croix, the Foundation Valery and other foundations, as well as the system suppliers involved.
This novel installation is a major step towards the energy transition in Switzerland as it shows that there are available and immediately scalable innovative solutions to protect crops, and produce food and green energy on the same land. It thus comes at the right time following the positive outcome of the Climate and Innovation Act voted by Swiss citizens on the 18th June 2023.
The plant is built over an area of 2600 m² of raspberries and is expected to produce around 190 MWh of electricity per year in addition to the raspberry yield.
insolagrin – the agronomic tool to protect crops and produce solar energy at the same time – supports growers in the transition to a more sustainable and resilient agricultural production. It offers a replacement to protective plastic tunnels and a choice to consumers of energy-positive fruits.
Press Release in German and French.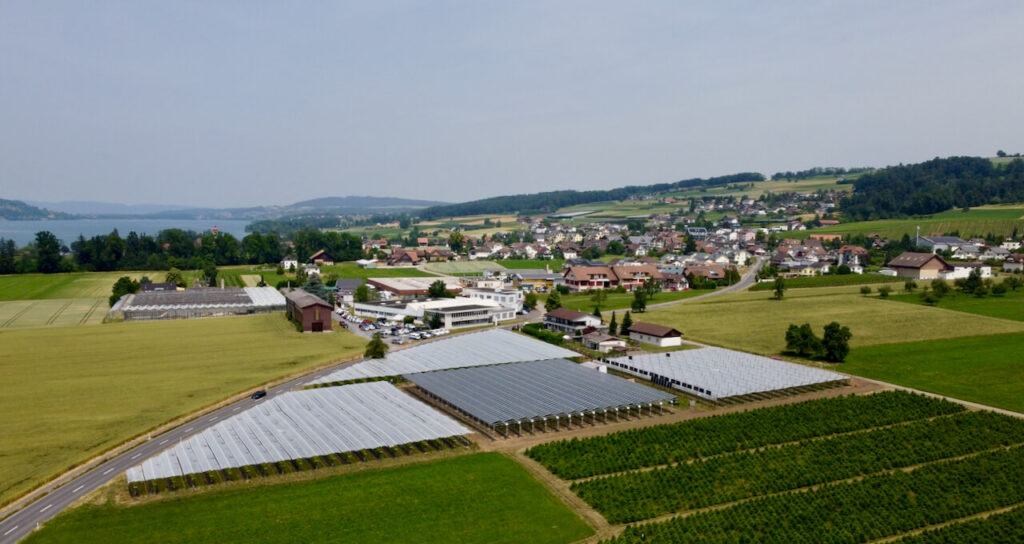 Press Contacts:
Insolight: Kalina Koleva, info@insolight.ch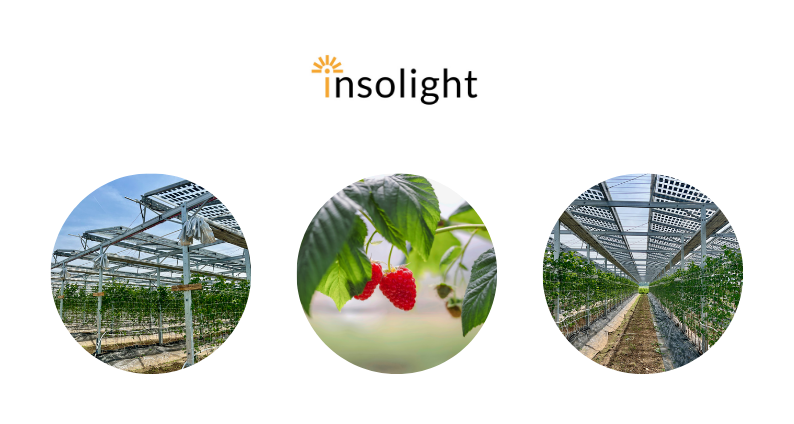 ABOUT INSOLIGHT
Founded in Lausanne (CH) in 2015 by Laurent Coulot (CEO), Mathieu Ackermann (CTO) & Florian Gerlich (Product Architect), Insolight is bringing to market insolagrin – a dynamic agrivoltaic solution. With a single infrastructure, insolagrin enables both agricultural and electricity production on the same land. The system provides protection for the crops and controls light transmission to plants through dynamic shading while harvesting excess light into electricity.
By replacing plastic tunnels, the market opportunity is sizable: berries alone represent more than 200 GW p in Europe. Our team is on a mission to deliver a solution that can impact globally both the energy and agriculture sectors. Insolight has developed a Global Partnership Program which Migros, SwissRe Foundation and Fruits Rouges & Co have already joined.