WE ARE DELIGHTED TO ANNOUNCE THAT INSOLIGHT SUCCESSFULLY CLOSED A NEW FINANCING ROUND OF CHF 4.85 MIO TO ACCELERATE DEPLOYMENTS' SCALE-UP AND COMMERCIAL ROLL-OUT
This round brings reinforcement to Insolight's shareholding structure with lead investor Demeter, a major European venture capital player in agritech and cleantech industries, and Smart Energy Innovation Fund, the Corporate Venture Capital Fund of Energie 360°, a Zurich-based sustainable energy and mobility service provider. They were joined by the existing investors Verve Ventures and Zürcher Kantonalbank, who are continuously supporting the company's growth.
The funds are instrumental to deploy Insolight's first large-scale insolagrin installations (hectare size / megawatts scale), serving first berry growers in Switzerland and France. The company then aims to replicate those first agrivoltaic installations globally and increase the number of targeted crops. The round will also support the commercial scale-up and the development of the existing projects' pipeline, targeting multiple tens of millions of Euros in the next two years.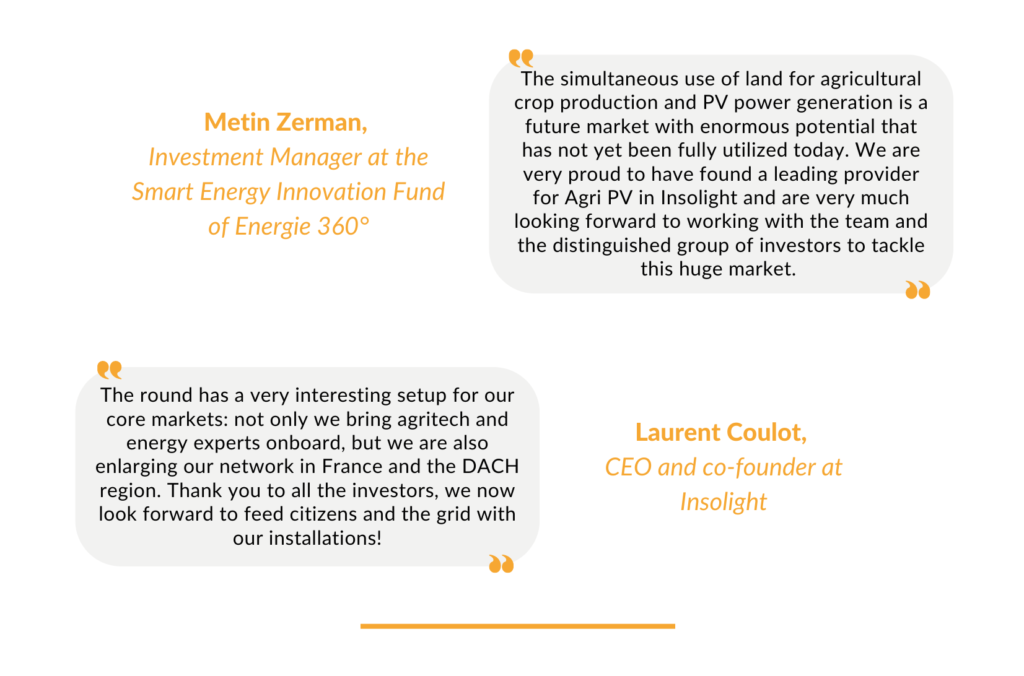 Press Contacts:
Insolight: Laurent Coulot, info@insolight.ch
Demeter Investment Managers: Cyrille Cabaret, cyrille.cabaret@demeter-im.com
Energie 360°: Michael Walser, kommunikation@energie360.ch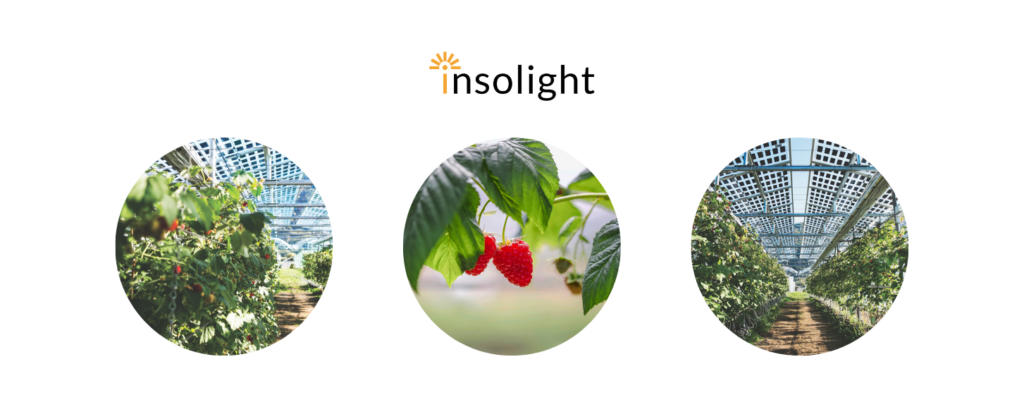 ABOUT DEMETER INVESTMENT MANAGERS
Demeter is a major European player in venture capital, private equity and infrastructure for the energy and ecological transition. Its funds invest from €1m to €30m to support companies in the sector at all stages of their development: innovative start-ups, small and mid-cap companies, as well as infrastructure projects. The Demeter team counts 37 people based in Paris, Lyon, Bordeaux, Grenoble, Metz, Madrid, and Düsseldorf, manages €1.2bn and has completed 200 investments over 17 years.
ABOUT SMART ENERGY INNOVATION FUND AG
The Smart Energy Innovation Fund is the corporate venture capital fund from Energie 360°. It helps start-ups in the areas of cleantech, energy, smart cities and mobility to rapidly become established on the market and to grow sustainably. The commitment of the Smart Energy Innovation Fund is focused not only on investments, but also on company founders. They benefit from the expertise, personal dedication and top-class network of the investment committee. The experts from the Smart Energy Innovation Fund assist the start-ups with all aspects of business and market development.
ABOUT ZÜRCHER KANTONALBANK
Zürcher Kantonalbank is a leading universal bank in the Zurich economic area with Swiss roots and international reach. It is an independent, incorporated public-law institution of the Canton of Zurich and has received top ratings from the rating agencies Standard & Poor's, Moody's and Fitch (AAA/Aaa). With more than 5,000 employees, Zürcher Kantonalbank offers its clients a comprehensive range of products and services. The bank's core activities include financing businesses, asset and wealth management, trading, capital market transactions, deposits, payment transactions and the card business. Zürcher Kantonalbank provides clients and distribution partners with a comprehensive range of investment and retirement provision products and services.
ABOUT INSOLIGHT
Founded in Lausanne (CH) in 2015 by Laurent Coulot (CEO), Mathieu Ackermann (CTO) & Florian Gerlich (Product Architect), Insolight is bringing to market insolagrin – a dynamic agrivoltaic solution. With a single infrastructure, insolagrin enables both agricultural and electricity production on the same land. The system provides protection for the crops and controls light transmission to plants through dynamic shading while harvesting excess light into electricity. By replacing plastic tunnels, the market opportunity is sizable: berries alone represent more than 200 GW p in Europe. Our team is on a mission to deliver a solution that can impact globally both the energy and agriculture sectors. Insolight has developed a Global Partnership Program which Migros and SwissRe Foundation have already joined.